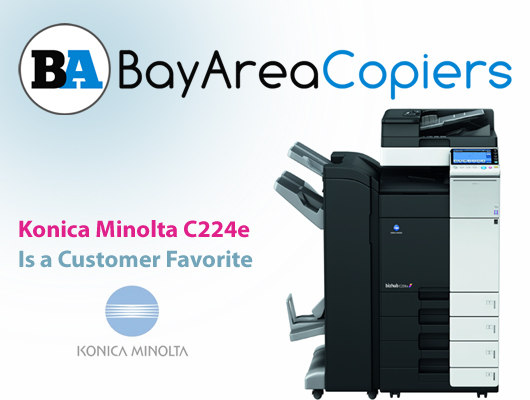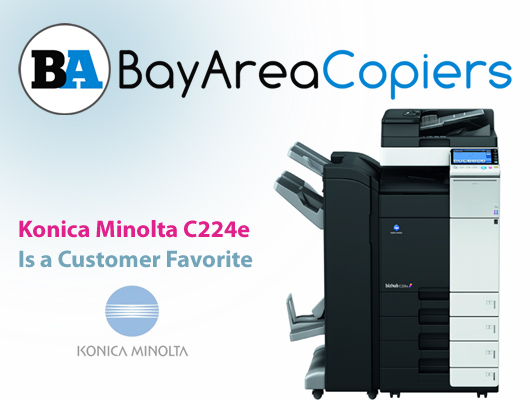 The Konica Minolta C224e is a favorite by customers because of its many features. The device has a new work style for busy companies that have updating work environments. Users with INFO-Palette design can benefit from this device because it is superior. The user's work speed is improved because the machine has unique printing and scanning functions. The device also helps the office reduce energy costs because it is a highly productive printer, but the power usage is lower. Bay Area copier company has some of the best prices around.
Employee's who use the Konica Minolta C224e copier finish their job faster!
The printer has a simple user-friendly display. High printing speeds are possible, and fast scans are not an issue as well. Many tasks can also be handled. Scan and faxes and scanning and printing are possible in different formats. General formats are TIFF, PS, and more. Mobile printing is also supported. It increases work efficiency because employees can share information and documents. Bay Area color copiers customers benefit from these features.
Other printers sometimes have printing problems that slow work production. Paper jams happen often when offices have cheap printers. This occurs when the paper feed is too full. Konica Minolta C224e printers have advanced technology, so paper jams happen less often. Another problem that occurs with a cheap printer is a driver error. Konica Minolta printers have the latest drivers, and users never have issues. Printing issues has very common on cheap devices. Sometimes the prints are burred. The Konica Minolta has high quality prints that are crisp. All this fantastic benefits are possible because the device is manufacturer efficiently.
Job efficiency can be measured by the print savings ratio feature. After the prints are made, users enjoy the quality of the prints. Each print is high resolution. This improves business documents because they are more legible. Besides documents, the printer also prints carbon receipts. By using different paper trays, the same data can be printed at different sizes. Bar code fonts are in high demand, and this particular print support them as well. The device also has various security options to suit most office needs.
Customer benefits from all these features, and this is why the Konica Minolta C224e is a customer favorite. It is a fantastic device that improves the productivity of businesses. Bay Area color copiers has the Konica Minolta C224e and many other accessories to help you improve the success of your company.