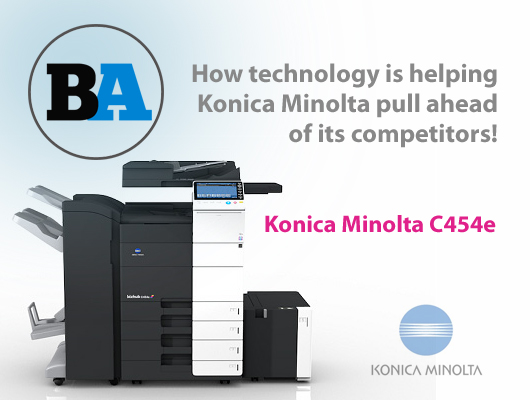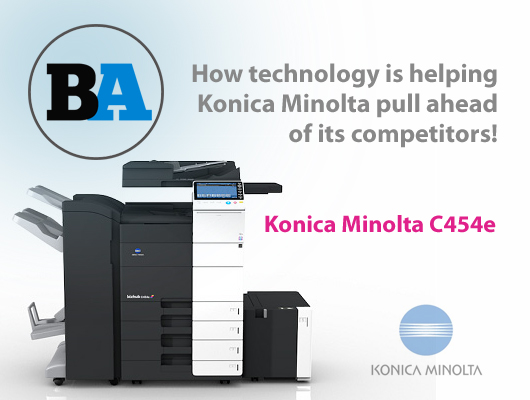 Konica Minolta C454e was specifically designed to meet the needs of the contemporary workplace. The Konica Minolta C454e offers a wide range of advanced features, functions and built-in benefits to help you work faster and more efficiently, as well as produce superior quality material all the time. The Bay area is climbing with people who are interested in the latest technology. With the growing technology all over the world things are changing and keeping up with competitors can be tough at times. Technology is helping Konica Minolta pull ahead of its competitors by offering you simple and intuitive operation and tons of advanced features to make it one of the highest quality machines on the market!
The Konica Minolta C454e is a color copier that is made to meet the demand!
This is a quality copier that has everything you need for the office at a great quality price as well. What more can you ask for in a copier. Color copiers can help with a diverse variety of projects from printing ads, fliers, applications and many of your other business printing materials. That paired with the innovative use of technology that the makers of the Konica Minolta C454e have integrated into this powerful machine is one you can be proud of. If you are in the Bay area and you want to find a quality color copier at a great price look to contact Bay Area Copiers to keep you ahead of the competition with the latest technology.
The Konica Minolta C454e is staying on top with features such as cloud computing
You are looking at a printer that will not only meet the needs of the company, but it will give the other printer manufacturers a run for their money. Offering you the ability to scan and print all from a mobile device such as a smartphone or tablet. Scan and print documents while you are on the go to maximize the business experience and get things done in a timely matter. It has a multi-touch user interface that uses the same technology as mobile devices, you can even convert hardcopies into MS Office files! This is a color copier that is outshining the competitors. Konica Minolta C454e uses less power even during use, and is made from environment considerate materials that have been recycled and reused for the outer surfaces. This is a color copier that utilizes coming of age technology to its full potential. Together with this product you can conduct some high end business at a great price. The Bay area is offering the Konica Minolta C454e and the quality that comes along with it. This is one of the classiest color copiers on the market, the remote capability, the user-friendly interface, and amazing features take us to new heights with technology. Technology is definitely helping the Konica Minolta C454e ahead of the competitors and up there with the best products on the market.